Luncheons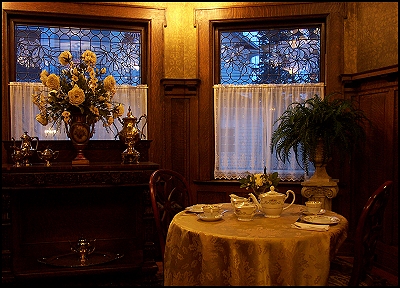 "The excellent food and elegant surroundings are exceeded only by Barb's and Hank's gracious hospitality. Never have we felt more comfortable away from home." - Bill & Kathy B.
We are not hosting luncheons at this time



One can almost hear the sound of fine crystal and great conversation that must have taken place around the massive table that once occupied this turn-of-the-century dining room. Today this beautiful room, with it original stained glass windows, ceiling, and wall fixtures, is our guest dining room where we continue using vintage china and silver to serve sumptuous breakfasts and private luncheons.

Private luncheons are a wonderful way to celebrate a special occasion or to recognize valued clients and employees. The Wellington Inn has proven to be a popular choice for bridal luncheons, birthday parties, and meetings of local business groups and organizations.

Private luncheon can be scheduled for a minimum of 20 guests.

Please call or fill out our online form.