Specials
February 2020


Plan a Romantic Valentines Day 
in Traverse City

When you stay at Wellington Inn you'll be transported in time, to an era of quiet and gracious living. A time when life was slower . . . when families entertained at home . . . and downtown was a leisurely stroll past elegant neighborhood homes. Take this all in as you enjoy a romantic evening stroll to dinner, shopping and multiple entertainment options downtown Traverse City.
We can't think of anything more romantic than a weekend spent at Wellington Inn to celebrate Valentine's Day with your special someone!

The following are restaurants we would recommend within walking distance to Wellington Inn.

Cooks House - American, Vegetarian-Friendly
Rare Bird - American, Bar, Brew Pub, Vegetarian-Friendly, Gluten-Free Options
Amical -  Mediterranean, French, Vegetarian-Friendly Vegan Options
FireFly - Vegetarian, Gluten-Free, and Vegan Options
Georginas -  Latin, Spanish, Asian, Cuban, Fusion
Modes Bum Steer -  American, Steakhouse, Gluten-Free Options
Patisserie Amie -  French, Vegetarian-Friendly, Vegan Options, Gluten-Free Options
Red Ginger -  Japanese, Sushi, Asian Fusion, Vegetarian-Friendly
Sorellina -  Italian, Vegetarian-Friendly, Gluten-Free Options
Slate - Steakhouse, Seafood
The Towne Plaza -  American, Contemporary, Healthy, Vegetarian-Friendly
Taproot Cider House - Vegetarian-Friendly, Gluten Free Options, Vegan Options
7 Monks - Bar, Pub, Gastropub, Gluten-Free Options
Blue Tractor -  American, Bar, Barbecue, Vegetarian-Friendly
The Franklin - American, Bar, Vegetarian-Friendly
Gaijin - Japanese
The Good Bowl - Asian, Vietnamese, Vegan Options
Mammoth Distilling - American
Poppy Cocks - Mediterranean, American, Vegetarian-Friendly

For this complete list of restaurants and more including links to their websites and menus Click Here.

We hope to see you this winter,

Barb and Hank




Make it a memorable
New Year's Eve


New Year's Eve in Traverse City, all within a short walk from your chamber at the Wellington Inn. There are many great restaurants, bars, and events happening just a walk away. We hope you BOOK YOUR STAY for NYE before we are sold out!

Events within walking distance to Wellington Inn on NYE

Traverse City New Year's Eve CherryT Ball Drop
Walk quickly to ANYWHERE in downtown Traverse City this New Year's Eve! Ring in the New Year in Beautiful Downtown Traverse City! If you can't make it to Times Square to witness the Ball Drop, the CherryT Ball drop is the next best thing! Each year there is live entertainment and a giant glowing cherry descends onto the city followed by fireworks! The party on Front Street begins at 10 pm and ends just after the new year! And remember, No Car Needed when you stay at the Wellington Inn!

Sips and Giggles New Year's Eve Comedy show with wine
Andrew Norelli will have two shows. Doors open at 6:30 PM for the early show which begins at 7:30 PM. Doors open for the second show at 8:15 PM which begins at 9:00 PM. Both will be paired with Leelanau Peninsula wine.

Dining recommendations within walking distance to Wellington Inn

Amical
Located in the heart of downtown Traverse City overlooking West Grand Traverse Bay, Amical has been offering eclectic European cuisine to our dining patrons since 1994. Order from creative and revolving menus, fresh selections prepared in our open kitchen and served in the cozy dining room or on our vibrant street-side patio. Experience the local flavor, dedicated service and consistent reputation that has kept Amical a favorite for over 20 years.

Georgina's

Georgina's is an authentic Asian and Latin taqueria in Traverse City. The menu is made up of both Latin and Asian appetizers, salads, entrees, and desserts. With so many great options to choose from, we encourage you to step out of your comfort zone and try something new!

Red Ginger

Red Ginger is an Asian dining experience located in the heart of Downtown Traverse City next to the historic State Theatre. Red Ginger's menu celebrates all of the excitement, allure, and interest that makes Asian cuisine deliciously satisfying while sourcing the highest of quality ingredients available, and embracing the local and seasonal products. Red Ginger is more than just a restaurant, it's an experience. The metropolitan atmosphere coupled with the friendliness of the professionally trained staff will surely make a lasting impression in hopes you join Dan, Pam and the team for years to come.

FireFly

FireFly restaurant is located in downtown Traverse City, on the banks of the Boardman River, FireFly specializes in small plates, sushi, and martinis. Dine inside or riverside on the patio in season. FireFly is proof that great food doesn't have to be expensive. We offer a wide selection of local, national and international wines, and our craft beer selection is extensive. Our knowledgeable staff can help pair the perfect wine or craft beer with your dinner!

Click Here for more details on the above events and many other festivities around the area.

Call (877) 968-9900 or (231) 922-9900 to RESERVE NOW or Book Your Stay Online.
We hope to see you this holiday season at Wellington Inn!

Barb and Hank


---
December 2019

December in Traverse City

Happy holidays to you and yours!
Stay with us this holiday season for an old fashioned Christmas experience. Take in downtown Traverse City's winter wonderland when you walk to and from unlimited shopping and dining options. As stated above, give the gift of a getaway to Wellington Inn this Christmas! Our Gift Certificates can be purchased online through our website for easy gift giving. The amount can be for any denomination. Enter your email address as the "email delivery address" to receive a Gift Certificate that you can print immediately!

Many things are going on in Traverse City during the month of December!
We've done the legwork for you and picked out some of our favorites that are within a walk from your chamber at the Inn. Don't miss lady's night and men's night for a holiday shopping experience not to be missed.

Lady's Night
December 12th
Get in on the holiday festivities with the restaurants and merchants of Downtown Traverse City. It will be a night filled with wine, food, refreshments, and deals while finishing some holiday shopping!

Men's Night
December 19th
Food, refreshments, and specials while you shop and sip the night away finishing up those last-minute holiday gifts!

Premium Pour
The entire month of December
Enjoy Premium Pour for the holidays! During the month of December, taste a wide selection of the great wines being produced on the Leelanau Peninsula. Tickets are $30 per person and include a signature wine glass and complimentary premium wine pours at more than 20 wineries along the Leelanau Peninsula Wine Trail, good for the entire month of December!

Cookbook Dinner Series at Amical Restaurant
December 2nd-8th
This Cookbook dinner series features James Beard nominees Sarah & Evan Rich.
They share their unique take on modern American cuisine from their Michelin starred restaurant in San Francisco.

Christmas in the Village
December 13th-15th
'Tis the season for joy and celebration at The Village at Grand Traverse Commons. This weekend-long celebration is filled with music, carriage rides, Santa Claus, shopping specials and much more. Merchants are also featuring Stocking Stuffer items $20 and under.

Dinner and Shopping Downtown Traverse City
November 15th - December
For a festive holiday with someone special, Wellington Inn recommends; a stay at the Inn, some holiday shopping and dinner downtown Traverse City. All are conveniently located within a short walk from your chamber at the Inn.

Traverse City New Year's Eve CherryT Ball Drop
December 31
Just a festive walk away to ring in the New Year at this amazing street party featuring a massive illuminated cherry that is lowered to signify the coming year! Live music and entertainment are all part of this fun winter party in Downtown Traverse City.

Click Here for more details on the above events and many other festivities around the area.

Call (877) 968-9900 or (231) 922-9900 to RESERVE NOW or Book Your Stay Online.
We hope to see you this fall at Wellington Inn!

Barb and Hank


---
November 2019

November in Traverse City

It's that time of year again! Don's miss the kick-off to Christmas 2019 in Traverse City. With so many events like Toast the season, Festival of Trees, TC Beer Week, Elf the musical, The Light Parade/Tree Lighting, Classic Christmas Movies at the State Theatre and Christmas in the Village you'll keep coming back every year. Stay with us over Thanksgiving weekend to get in the spirit of the season with many shopping and dining options just a walk away. All things Traverse City is just a short walk from your chamber at the Inn…

Toast the Season
November 2,3,9,10 
"Celebrate the upcoming holiday season and get inspired for your own upcoming holiday gatherings by sampling mouth-watering wine and food pairings at wineries along the Leelanau Peninsula Wine Trail."

Festival of Trees
November 8-10
"Nine local nonprofit organizations will compete for your $1 votes through beautifully decorated holiday room displays and Christmas trees. Your favorite will keep 100% of their proceeds plus an additional $500 BONUS for the winner!"

Traverse City Beer Week
November 8-15
"Test your beverage IQ at the TC Ale Trail IPA Challenge, run a beer-themed 5k during the Great Beerd Run or get out your coziest flannel and be ready for the Flapjack and Flannel Festival. These quirky events and others are all part of the seven days of craft beer during Traverse City Beer Week."

Elf - The Musical at the Old Town Playhouse
Various dates November 15 - December 14
"Embrace your inner elf! A young orphan mistakenly crawls into Santa's bag of gifts and is transported to the North Pole."

Light Parade, Santa's Arrival & Tree Lighting
November 23
"We celebrate the 2019 holiday season with the magic of lighting up beautiful Downtown Traverse City and our iconic tree as the Light Parade passes by, followed by the welcoming of Santa Claus to Downtown Traverse City!"

Classic Christmas Movies at the State Theatre
November 27 - December 28
"From Elf to The Bishop's Wife to The Polar Express to National Lampoon's Christmas Vacation, there's something to please just about everyone. Join us at the State for a classic holiday movie -- a Traverse City holiday tradition! And most tickets are only 25 cents!"

Christmas in the Village Artison Market
November 30, 2018 - December 2, 2018
"Fine arts and crafts, paintings, photographs ... holiday gift items abound at this annual show and sale."

Click Here for more details on the above events and many other festivities around the area.

Call (877) 968-9900 or (231) 922-9900 to RESERVE NOW or Book Your Stay Online.
We hope to see you this fall at Wellington Inn!

Barb and Hank


---
October 2019

October Color Report

Here is your Pure Michigan Fall Color Update – October 18 – 25, 2019!
"The colors throughout the Grand Traverse Bay region are becoming more pronounced near the shoreline, creating a beautiful contrast of reds and golds against the blue bay. Grab a hot coffee downtown and enjoy the festive storefronts, then walk down to Clinch Park and enjoy leaf-peeping among the area's stunning fall foliage. For those visiting Sleeping Bear Dunes National Lakeshore, be sure to swing into Gallagher's Farm Market on M-72 for a pumpkin donut and cider. Peak color is expected in one or two weeks". And when staying at Wellington Inn all things downtown Traverse City are within a colorful fall stroll away.

We still have a few rooms available this weekend (October 25-27).
Book now to reserve your chamber at the Inn.
Ask about our Fab Fall Package when booking with us!

Call (877) 968-9900 or (231) 922-9900 to RESERVE NOW or Book Your Stay Online.
We hope to see you this fall at Wellington Inn!

Barb and Hank


---
October 2019

October in Traverse City!

The vibrant varying displays of color in northern Michigan in October are truly magical. Venture out for fall color tour, coordinate your trip with the yearly varying peak color times and make some memories.

Peak color times differ slightly each year, but the following will give you an idea on estimated times in the various areas around Michigan:
-Western Upper Peninsula – Mid September to early October
-Mid-Upper Peninsula and northern Lower Michigan – Late September to mid-October
-Most of Mid-to Southern Lower Peninsula - Early to mid-October
-Lower Peninsula's West Coast and parts of the East Coast – Mid to late October

With our Fab Fall Package, your stay includes the as always sumptuous full breakfast every morning as well as a wide assortment of discount coupons on everything from dining, movies and spa services, wine purchases and entertainment. This year it includes an added bonus of a free pumpkin and assorted chocolates from Gallagher Farms! Call the Inn for details at 231 922 9900.

The Hunt for the Reds of October
Presented By: Leelanau Peninsula Wine Trail
This is a great way to explore the great red wines of Leelanau! The Hunt for the Reds of October takes place on weekdays for the entire month of October. Your ticket gets you a complimentary pour at each of 21 participating wineries offering diverse red wines --- from big, bold Cabernet Francs and Merlots to aromatic and spicy Pinot Noirs and many more! Also, you will receive a signature wine glass and $5 of your ticket price goes to the American Red Cross.

Click Here for more details on the above event and many other fall happenings around the area.

Call (877) 968-9900 or (231) 922-9900 to RESERVE NOW or Book Your Stay Online.
We hope to see you this fall at Wellington Inn!

Barb and Hank


---
September 2019

September in Traverse City!

Enjoy September in Traverse City! With lots to do in every season, harvest time is full of many colorful adventures you don't want to miss. Any autumn color tour will pass by a smattering of various pumpkins, vegetables and fall treats for sale at many roadside stands. Wineries, Breweries, and Distilleries will be hard to miss along the way, with over 100 in the Traverse City area it will be hard not to try a few and bring some home to remember your unforgettable time in god's country.

We've picked a few September events to feature for you. We hope to see you again at Wellington Inn.

Saturdays through October 26, 2019
Sara Hardy Farmers Market
There's no end to the goodies you'll find at our Farmers Market! Local produce, baked goods, flowers, and plants abound and all the wonderful selections change as the summer progresses. From planting season to strawberry time to the pumpkin harvest, come to the market to enjoy the sights, scents, and tastes of Northern Michigan. It doesn't get any better than this.

The Botanic Garden at Historic Barns Park
Located in the heart of Traverse City – on the beautiful grounds of Historic Barns Park – The Botanic Garden will be a year-round sanctuary of environmental preservation, recreation and education. Its 25 acres will nurture the soul, enliven our history and promote Michigan's natural beauty. With an emphasis on plant species native to northwest Michigan, it will create and enhance habitats for various forms of wildlife. As a place of refreshment and solace, The Botanic Garden's unique and original design will inform and inspire. After over a decade of careful planning and preparation, the garden is coming alive.

September 6, 2019
The Downtown Art Walk
The Downtown Art Walk is a local favorite and will showcase art exhibits throughout downtown Traverse City. The public is invited to enjoy an evening of art, refreshments, food, and music on a self-guided tour throughout downtown Traverse City. Walking maps are available at each participating location and the Downtown Traverse City office.

September 21, 2019
Dining in the Vines
At Bowers Harbor Vineyards, the evening begins with a Sparkling Wine Reception complete with bubbles, gourmet cheese, and meat boards. Then, we will guide diners through each intriguing course and the complimentary wine that accompanies each flavorful dish. Follow the example of diners who keep coming back each year and get a group of friends together for a dinner you will all be talking about for years to come!

September 12, 2019 - September 28, 2019
The Importance of being earnest at Old Town Playhouse
In this farcical comedy by Oscar Wilde, two bachelors create alter egos named Ernest to escape their tiresome social obligations. When they attempt to win the hearts of two women who, conveniently, claim to only love men named Ernest, confusion reigns in this tangled tale that Wilde called "A Trivial Comedy for Serious People."

Click Here for more details on the above events.

Call (877) 968-9900 or (231) 922-9900 to RESERVE NOW or Book Your Stay Online.
We hope to see you again at Wellington Inn!

Barb and Hank


---
August 2019

August in Traverse City!

Experience Traverse City in August. The weather is beautiful and it's a little less crowded! Wellington Inn is within walking distance to all things Traverse City has to offer. Very seldom do we have availability in the summer. This August we still have some mid-week openings.

Openings and Features
Various rooms are open at various times throughout August. We have chosen to feature our most requested room for this post.

The Woolsey Chamber was originally the servants' quarters, this room has been converted into a lovely and romantic suite. This spacious suite is especially popular with our bridal and anniversary guests. The 1890's Victorian Renaissance Revival bedroom suite features a queen-sized bed. Guests can relax by the fireplace in a comfortable sitting area that features a Louis XV revival sofa and fireside chairs. Or, when the weather invites us outdoors, they may enjoy their private balcony with a large sitting area overlooking the garden. The adjoining private bath includes an air-jetted 2-person whirlpool w/shower.

More about Wellington Inn
Antiquities' Wellington Inn is a 1905 neo-classical mansion that has been transformed into a small elegant hotel and is located in Northern Michigan in the historic heart of Traverse City. Built by one of Traverse City's lumber barons, this spectacular mansion has been fully restored to its original grandeur and features period antiques throughout the hotels nine guest rooms, dining room, library and living room.

Each morning guests are treated to a sumptuous full breakfast in the turn-of-the-century dining room. Refreshments and snacks are always available in the guest kitchen located off the 3rd-floor ballroom.

If planning an extended visit to Northern Michigan, the two 2-bedroom Carriage House apartments provide guests with a home away from home, allowing a leisurely multi-day exploration of Traverse City and the surrounding region.

Situated in a unique downtown neighborhood our hotel in Traverse City is within a short walk to fine restaurants, shops, recreational trails and the spectacular beaches of Grand Traverse Bay.
Click Here for more details on the above events.

Call (877) 968-9900 or (231) 922-9900 to RESERVE NOW or Book Your Stay Online.
We hope to see you again at Wellington Inn!

Barb and Hank


---
July 2019

July in Traverse City!



Won't Last Long! July Weekend Avaiable! Friday, July 26th and Saturday, July 27th! Call (877) 968-9900 or (231) 922-9900 to RESERVE NOW or Book Your Stay Online.



Get ready for July in Traverse City! Relax in the beauty of northern Michigan or make a plan from our list of Traverse City area events from concerts to festivals to bike rides most within a short walk from your room at our small elegant hotel.


4
JUL
4th of July Fireworks
Thursday
Traverse City

29
JUN
National Cherry Festival
Jun 29 – Jul 6
Traverse City

Traverse City Film Festival
Tue, Jul 30 – Sun, Aug 4
Traverse City

18
JUL
Garden 2 Table Dinner
Thu, 6 – 9 PM
Historic Barns Park, 1500 Red Dr
Traverse City, MI

4
JUL
National Cherry Festival Parade
Thu, Jul 4
Traverse City, MI


29
JUN
National Cherry Festival Air Show
Jun 29 – 30
Traverse City

2
JUL
Gabriel Iglesias in Traverse City
Tue, 6 PM
250 E Front St
Traverse City, MI

Click Here for more details on the above events.

We hope to see you this July!

Barb and Hank


---
June 2019

June in Traverse City!

It has been recommended by many to visit Traverse City in the early summer. Temperatures hover in the 60's and 70's rather than the sweltering 80's and 90's of mid-summer.
The busiest season in Traverse City is during the mid-summer as well. So, beat the crowds and the heat this year. Plan your stay at Wellington Inn just before Cherry Festival which begins June 29th for a most comfortable experience.

We've chosen some events through June that may interest you...

Sleeping Bear Dunes Day Tours
Recurring weekly on Sunday, Friday, Saturday
May 31, 2019 - September 1, 2019
Enjoy a leisurely day exploring the Sleeping Bear Dunes National Lakeshore! This getaway includes transportation, lunch and some special mementos of your visit. Sit back, relax and leave the planning to Bay Life Getaways! Ticket includes round trip transportation from Traverse City to the Lakeshore, Dune Climb entrance fee, time at Lake Michigan and on the dunes, a picnic lunch, entrance fee to the Pierce Stocking Drive and a Bay Life Getaway representative to guide the process

Levi Britton Live at The Shed Beer Garden
June 6, 2019
Join us at The Shed Beer Garden, located behind Blue Tractor Barbeque, for live music, BBQ, beer, and family-friendly fun! Enjoy live music by Levi Britton from 5:00 PM to 9:00 PM all within walking distance from the Inn.

Leland Wine and Food Festival
June 8, 2019
Discover the quaint village of Leland. Enjoy tasting local award-winning wines from 16 Leelanau Peninsula wineries (and on local brewery!), delicious specialties from local restaurants and vendors while soaking up beautiful views of Lake Michigan and the Manitou Islands from our Leland Harbor venue. There will be non-stop live music!

Suds & Sun - The Ultimate Party in the Sun!
June 15, 2019
The Inaugural Suds & Sun is back for an afternoon filled with beer, wine, cider, live music, and SUNSHINE a the Village at Grand Traverse Commons! There will be a wide selection of food from local restaurants and food trucks, as well as two stages featuring local and regional musicians. This event is within a walk or bike from the Inn and is for guests 21 years of age and older. There will be non-alcoholic beverage options available.

Fustini's Olive Oil Tastings
Recurring weekly on Friday Through June 28, 2019
Ever wonder what makes a high-quality extra virgin olive oil? Walk on over to Fustini's and taste the difference for yourself! Test and compare our fresh and quality olive oils and other oils you may think are the real deal. This is a free, walk-in experience.

National Cherry Festival Opening Ceremonies
June 29, 2019
Join us as we kick off the 2019 National Cherry Festival! Hear remarks from the National Cherry Queen and the National Cherry Festival President along with other prominent figures.

Click Here for more details on the above events.
We hope to see you this spring / summer!

Barb and Hank


---
May 2019

May in Traverse City!
The weather is shaping up and there is so much to do in Traverse City! Lots of planned events, and many outdoor adventures to do at your leisure. We've done some of the legwork for you this May and are featuring some of the things happening just a quick walk from your chamber at the Inn. Also, of course, the annual Spring Sip and Savor and Blossom Day for those Wine enthusias!

THE WHO'S TOMMY at Old Town Playhouse
April 26, 2019 - May 18, 2019
Recurring weekly on Thursday, Friday, Saturday until May 18, 2019
This rock musical is based on The Who's 1969 rock opera, Tommy. After witnessing an accidental murder, a young boy is so traumatized that he loses his ability to see, hear, or speak. He also ceases to care about life and suffers various abuses until he discovers pinball. Enjoy this timeless story of hope, healing, and the human spirit on its 50th anniversary.

Fustini's Cooking Class: Italian Date Night
May 2, 2019
Created by Chef Sam Brickman, this menu will remind you of a romantic Italian Bistro!
Menu:
Arancini with Amogio Sauce
Italian Wedding Soup
Pasta Puttanesca
Tiramisu
This class is $55 per person and payment is expected at time of registration, as seats are limited. Each attendee will receive a 10% discount on products purchased the day of the class. You can register by calling the store at (231) 944-1145. You can email your questions to liz@fustinis.com. Please notify us of any dietary restrictions in advance. Be sure to check out "What you need to know" before registering.

Downtown Traverse City Art Walk
May 3, 2019
The Downtown Traverse City Art Walk is a local favorite and showcases art exhibits throughout downtown Traverse City. The public is invited to enjoy an evening of art, refreshments, food and music on a self-guided tour throughout downtown Traverse City. Walking maps are available at each participating location and the Downtown Traverse City office.

Sara Hardy Downtown Farmers Market
May 4, 2019 - October 26, 2019
There's no end to the goodies you'll find at our Farmers Market! Local produce, baked goods, flowers and plants abound and all the wonderful selections change as the summer progresses. From planting season to strawberry time to the pumpkin harvest, come to the market to enjoy the sights, scents and tastes of Northern Michigan. It doesn't get any better than this.

Spring Sip & Savor on the Leelanau Wine Trail
May 4, 2019 - May 5, 2019
As the vineyards awaken to the sun and warmth of May, toast to the enchanting beauty of spring, indulge your senses and discover delicious Leelanau Wines splendidly paired with scrumptious small bites! This beloved springtime event includes a self-guided tour along the trail, where you're free to visit any of the 24 participating wineries in any order you choose on both Saturday and Sunday

Wineries of Old Mission Peninsula Blossom Day
May 18, 2019
ith 2.6 million cherry trees typically in blossom against that blue water backdrop, the scenery should be set for you to enjoy a day of exploring the Wineries of Old Mission Peninsula. Enjoy fresh, spring-inspired food pairings at each winery. Savor delicious and diverse experiences from ten renowned wineries, including some new releases, barrel or tank tastings, or a chance to chat with winemakers. You will also receive a commemorative wine glass!

Jabo Bihlman Live at The Shed Beer Garden
May 25, 2019
Bihlman plays at The Shed Beer Garden -- located behind Blue Tractor -- for BBQ, beers, music and family fun including live music by Jabo Bihlman and is just a short walk from Wellington Inn.

Sleeping Bear Dunes Day Tours
May 31, 2019 - September 1, 2019
Enjoy a leisurely day exploring the Sleeping Bear Dunes National Lakeshore! This getaway includes transportation, lunch and some special mementos of your visit. Sit back, relax and leave the planning to Bay Life Getaways! Ticket includes round trip transportation from Traverse City to the Lakeshore, Dune Climb entrance fee, time at Lake Michigan and on the dunes, a picnic lunch, entrance fee to the Pierce Stocking Drive and a Bay Life Getaway representative to guide the process. 

Click Here for more details on the above events.
We hope to see you this spring!

Barb and Hank


---
April 2019

Spring has Sprung in Traverse City!
Spring is finally here and it's having a positive effect on everyone in Traverse City. The sun is out; people are riding bikes around town or walking outside in the fresh air instead of driving. The warmer weather has a huge effect on our mental state. We get excited about planning and getting out of hibernation mode. So, we've done some of the planning work for you below. Visit Wellington Inn this spring and walk or ride a bike to most of these events and celebrate the start to a beautiful spring!

Amical Cookbook Dinner Series Presents Local Wine & Spirits Week
April 1, 2019 - April 7, 2019
A flashback of Amical menu favorites from our 25-year history carefully paired with libations from the region's winemakers, brewers, and distillers. We'll even have some of these talented artists in the dining room as well.

Decade Dinner Series at The Franklin
April 13, 2019
Explore the cuisine and drinks of days gone by at The Franklin! The theme will be Saturday Night Fever -- the swingin' '70s! Did you save those satin disco pants? Dressing for the time period is encouraged but not required. Reserve your spot by calling 231-943-2727.

Oyster/Crab Cake Social at Brengman Brothers Winery
April 20, 2019
Join us for the closest experience to the ocean in the Great Lakes region! The best oyster and crab cake adventure happens at Brengman Brothers. Send us your reservation and get ready for great oysters and crab, matched up with Brengman Brothers wine!

The Rotary Show! At the State Theatre
April 24, 2019 - April 27, 2019
Get ready for homespun humor and music performed with enthusiasm by local Rotarians! Proceeds from the show go to local organizations doing important things in arts and culture, basic human needs, education, the environment, health and safety, and recreation.

THE WHO'S TOMMY at Old Town Playhouse
April 26, 2019 - May 18, 2019
This rock musical is based on The Who's 1969 rock opera, Tommy. After witnessing an accidental murder, a young boy is so traumatized that he loses his ability to see, hear, or speak. He also ceases to care about life and suffers various abuses until he discovers pinball. Enjoy this timeless story of hope, healing, and the human spirit on its 50th anniversary.

The Accidentals in Concert at the State Theatre
April 28, 2019
The beloved local band The Accidentals are wrapping up their Jack Pine Tour Spring Tour with a special hometown concert and album release! You absolutely don't want to miss this show! $50 ticket includes VIP seating and meets and greet.

Click Here for more details on the above events.
We hope to see you this spring!

Barb and Hank


---
March 2019



Stay with us for a 2 Night Weekend in March for just $350! $175 for each night!


BOOK ONLINE NOW!

There are many things going on in March and they are all within a short walk from your chamber at the Inn!

Traverse City Restaurant Week
begins February 24th and runs through March 2nd, 2019
Three Course Menus will be $25 or $35 per person. Walk to your choice of over 20 different restaurants when you stay at Wellington Inn. This is a great time to check out restaurants you have not tried at a discounted rate.

Moon over Buffalo at Old Town Playhouse
begins March 1st and runs through March 16th, 2019
A fast-paced screwball comedy...When two fading Broadway stars bring their run-down touring company to Buffalo, they discover they have one last chance at stardom. But soon everything that can go wrong does as their wacky family and supporting cast provide plenty of confusion and backstage shenanigans.

Cookbook Dinner Series Presents Nopi
begins March 4th and runs through March 10, 2019
An encore performance of spectacular recipes from one of our favorite cookbook authors. Ottolenghi & Scully's modern Middle Eastern cuisine will brighten up your March.

Sips & Giggles Comedy Show featuring Michael Palascak
March 9, 2019
Sips n' Giggles pairs Leelanau Peninsula Wines with nationally-recognized stand-up comedians! Come and laugh with Michael Palascak, who has appeared on Comedy Central, The Late Show with David Letterman, The Late Show with Jay Leno, Conan,The Late Late Show with Craig Ferguson, The Late Show with Stephen Colbert, The Late Late Show with James Corden ... and he was a finalist in NBC's Last Comic Standing Season 9.

St. Patrick's Day Pub Walk
March 15, 2019, 12:00 PM to 11:00 PM
Get a jump start on your St. Patrick's celebration! Don your favorite green finery and celebrate on the 15th during Traverse City's annual Pub Walk. Attendees are encouraged to bring festive decorations and party favors and enjoy performances by members of the Grand Traverse Pipes and Drums. The event starts at Minerva's on State Street and continues throughout the day and evening at nine additional venues located throughout downtown.

Traverse Symphony Orchestra: Civic Prelude Strings
March 20, 2019, at 7:00 PM
Enjoy this free Winter Performance from the Traverse Symphony Orchestra Civic ensembles. Directed by Lynne Tobin, this event is open to the public.

Click Here for more details on the above events.
We hope to see you this March!

Barb and Hank

---
Gift Certificates
make the perfect gift!
Give the gift of a trip back in time with a getaway to Wellington Inn, walking distance to downtown Traverse City. You can purchase and print the Gift Certificates right through our website and the amount can be for any denomination. Just enter your own email address as the "email delivery address" to receive a PDF file to print immediately!
Click Here

---




February 2019



We can't think of anything more romantic than a weekend spent at Wellington Inn to celebrate Valentine's Day!

During this years TCRW, walk to your choice of over 20 different restaurants when you stay at Wellington Inn. This year Traverse City Restaurant Week runs from February 24th-March 2nd. Each participating restaurant will offer a 3 Course Menu ranging from $25 or $35 per person. This is a great time to check out restaurants you have not tried at a discounted rate.

See below for a complete list of TCRW participating restaurants. Dining options listed will complement the walkability of Wellington Inn (within a short romantic stroll from your quarters at the Inn).

Click Here to view all participating restaurant menus.
Cooks House - American, Vegetarian-Friendly
Rare Bird - American, Bar, Brew Pub, Vegetarian-Friendly, Gluten Free Options
Amical - Mediterranean, French, Vegetarian-Friendly Vegan Options
Bistro Fou Fou - French, European, Vegetarian-Friendly
FireFly - Vegetarian, Gluten Free, and Vegan Options
Georginas - Latin, Spanish, Asian, Cuban, Fusion
Modes Bum Steer - American, Steakhouse, Gluten Free Options
Patisserie Amie - French, Vegetarian-Friendly, Vegan Options, Gluten Free Options
Raduno - Italian, Cafe, Deli, Grill, Vegetarian-Friendly, Vegan Options
Red Ginger - Japanese, Sushi, Asian Fusion, Vegetarian-Friendly
Sorellina - Italian, Vegetarian-Friendly, Gluten Free Options
Slate - Steakhouse, Seafood
The Towne Plaza - American, Contemporary, Healthy, Vegetarian-Friendly
Taproot Cider House - Vegetarian-Friendly, Gluten Free Options, Vegan Options
Sparks BBQ - American, Barbecue, Grill, Gluten Free Options
7 Monks - Bar, Pub, Gastropub, Gluten Free Options
Blue Tractor - American, Bar, Barbecue, Vegetarian-Friendly
The Franklin - American, Bar, Vegetarian-Friendly
Gaijin - Japanese
The Good Bowl - Asian, Vietnamese, Vegan Options
Mammoth Distilling - American
Poppy Cocks - Mediterranean, American, Vegetarian-Friendly
North Peak - American, Bar, Pub, Vegan Options, Gluten Free Options
For BOGO 1/2 OFF Sunday-Thursday through February, call 231.922.9900 to book now and mention this email.

We hope to see you this winter,

Barb and Hank

---
Make it a memorable
New Year's Eve
New Year's Eve in Traverse City, all within a short walk from your chamber at Wellington Inn. Many great restaurants, bars, and events happening just a walk away. We hope you BOOK YOUR STAY for NYE before we are sold out!
Click Here to Book Online

Events within walking distance to Wellington Inn on NYE

Traverse City New Year's Eve CherryT Ball Drop
The ultimate New Year's Eve party. It's Time Square in Traverse City.
Watch the illuminated cherry drop as the clock strikes 12. Ring in the new year in a sea of people all with live music and entertainment. Don't forget your bracelet provided by the Downtown Traverse City Association for your own personal light show blinking right along with the music!
Click Here For More Info.!

New Year's Eve with The Charlie Millard Band
Start your New Year's Eve out right at the Workshop Brewing Company

Dining recommendations within walking distance to Wellington Inn

Amical
Located in the heart of downtown Traverse City overlooking West Grand Traverse Bay, Amical has been offering eclectic European cuisine to our dining patrons since 1994. Order from creative and revolving menus, fresh selections prepared in our open kitchen and served in the cozy dining room or on our vibrant street-side patio. Experience the local flavor, dedicated service and consistent reputation that has kept Amical a favorite for over 20 years.
Click Here For More Info!

Georgina's

Georgina's is an authentic Asian and Latin taqueria in Traverse City. The menu is made up of both Latin and Asian appetizers, salads, entrees, and desserts. With so many great options to choose from, we encourage you to step out of your comfort zone and try something new!
Click Here For More Info!

Red Ginger

Red Ginger is an Asian dining experience located in the heart of Downtown Traverse City next to the historic State Theatre. Red Ginger's menu celebrates all of the excitement, allure, and interest that makes Asian cuisine deliciously satisfying while sourcing the highest of quality ingredients available, and embracing local and seasonal product. Red Ginger is more than just a restaurant, it's an experience. The metropolitan atmosphere coupled with the friendliness of the professionally trained staff will surely make a lasting impression in hopes you join Dan, Pam and the team for years to come.
Click Here For More Info!

FireFly

FireFly restaurant is located in downtown Traverse City, on the banks of the Boardman River, FireFly specializes in small plates, sushi, and martinis. Dine inside or riverside on the patio in season. FireFly is proof that great food doesn't have to be expensive. We offer a wide selection of local, national and international wines, and our craft beer selection is extensive. Our knowledgeable staff can help pair the perfect wine or craft beer with your dinner!
Click Here For More Info!

Happy Holidays!

Barb and Hank
---




December 2018


Happy holidays to you and yours! We know you are busy this time of year and hope you take time for yourself and slow down when you can. As stated above, you can purchase Wellington Inn Gift Certificates online through our website for easy gift giving. The amount can be for any denomination. Enter your own email address as the "email delivery address" to receive a PDF file to print immediately!

Many things are going on in Traverse City during the month of December! We have done the legwork for you and picked out some of our favorites that are within a walk from your chamber at the Inn.
Click Here

Ladies Night
December 6th
Get in on the holiday festivities with the restaurants and merchants of Downtown Traverse City. It will be a night filled with specials, food, and refreshments while finishing some holiday shopping!
Click Here

Men's Night
December 13th
Food, refreshments, and specials while you shop and sip the night away finishing up those last minute holiday gifts!
Click Here

A Christmas Carol
Thursday, Friday and Saturdays through December 8
The story of Ebenezer Scrooge and his redemption. This energetic comedy with music will delight all.
Click Here

Cookbook Dinner Series at Amical Restaurant
December 3rd-9th
This Cookbook dinner series features the complete Robuchon.
Another iconic French influencer of our hospitality world, whose recipes and techniques continue to inspire those who practice the craft.
Click Here

Christmas in the Village
December 7th-9th
A weekend-long celebration filled with music, carriage rides, Santa Claus, shopping specials and Stocking Stuffer items $20 and under.
Click Here

Dinner and Shopping Downtown Traverse City
December 14th-23rd
For a festive holiday with someone special, Wellington Inn recommends; a stay at the Inn, some holiday shopping and dinner downtown Traverse City. All are conveniently located within a short walk from your chamber at the Inn.

Traverse City New Year's Eve CherryT Ball Drop
December 31, 2018
The ultimate New Year's Eve party. It's Time Square in Traverse City.
Watch the illuminated cherry drop as the clock strikes 12. Ring in the new year in a sea of people all with live music and entertainment. Don't forget your bracelet provided by the Downtown Traverse City Association for your own personal light show blinking right along with the music!
Click Here

We hope to see you this holiday season in Traverse City!

Call 231.922.9900 for reservations


---




November 2018



It's that time of year again! We have some recommendations for you below for a November to remember! It includes a festive feast while you're staying with us over the Thanksgiving holiday, and as always, is just a short walk from the Inn…

For a festive feast, this Thanksgiving, don't miss the spread at Firefly Restaurant! It's a quick walk away and check out what will be featured on their turkey day buffet; Roasted Turkey, Herb Crusted Carved Prime Rib, Salmon with Tomato Caper Cream, Pasta Primavera, Parmesan Truffle Brussel Sprouts, Candied Sweet Potatoes, Sausage & Sage Stuffing, Mashed Potatoes, Fresh Green Bean Casserole, Assorted Sushi, Traverse City Salad, Pumpkin, Apple and Pecan Pies, Mini Sweets & Chocolate Fondue and much more. $29.95 for Adults, $10.95 for 10 and under, Under 3 Free. Call for reservations at 231.932.1310. For more information Click Here!

Many fun things happening in Traverse City this November and most within walking distance from Wellington Inn!

Toast the Season
November 3, 2018 - November 11, 2018
Leelanau Peninsula Wine Trail inspires you for the upcoming holiday season by sampling wine and food pairings at 25 wineries. Collect recipes from each winery, taste and buy wines to pair with your upcoming holiday meals. There will be a special gift for you at your first stop! For more information Click Here!

Cookbook Dinner Series Presents Boqueria
November 5, 2018 - November 11, 2018
Amical will feature Spanish cuisine from this New York City Tapas Bar with a true Barcelona vibe. Chef Vidal and Owner Yann display their passion and skill in every dish. For more information Click Here!

Festival of Trees
November 9, 2018 - November 11, 2018
Golden-Fowler Home Furnishings hosts the Festival of Trees! Come pick your favorite tree from among those decorated by eight local nonprofit organizations. Each vote you cast for a tree costs only $1 and proceeds benefit the charities. Plus, the overall winner gets a $500 bonus! For more information Click Here!

Traverse City Beer Week
November 9, 2018 - November 16, 2018
Traverse City Beer Week showcases a series of events highlighting our fabulous craft beer scene with tastings, dinners, and workshops. Get a pint or a sample, meet with brewers and brewery representatives, and learn more about our incredible beer state of Michigan. For more information Click Here!

Traverse City Light Parade, Santa's Arrival & Tree Lighting
November 17, 2018
Downtown Traverse City will celebrate the 2018 holiday season. TC welcomes Santa Claus to Traverse City all while a light parade fills the streets and the magical lighting of the tree unfolds. For more information Click Here!

A CHRISTMAS CAROL
November 25, 2018 - December 2, 2018
Recurring weekly on Thursday, Friday and Saturday at Old Town Playhouse. In this play-within-a-play, the spirits of Christmas work their magic as a struggling company of traveling players tells the story of Ebenezer Scrooge and his redemption. This energetic comedy with music will delight the entire family. For more information Click Here!

Walking In A Window Wonderland
November 30, 2018 - December 2, 2018
Join us in Downtown Traverse City and walk in a Window Wonderland! Window decorating contest meets Scavenger hunt and a whole lot of fun! Vote for your favorite store's window display. You could WIN a $250 Downtown Gift Certificate! This is a Free event hosted by the Downtown Traverse City Association. Click Here!


We hope to see you this holiday season in Traverse City!

Call 231.922.9900 for reservations


---




October 2018



We anticipate the beauty of fall each year; the vibrant varying displays of color are truly magical. Each year hundreds of thousands of people venture out for fall color tour, the key is to coordinate your trip with the yearly varying peak color times.

Although each year the specific peak time differs slightly, the following will give you an idea on times in the various areas around Michigan:
-Western Upper Peninsula – Mid September to early October
-Mid-Upper Peninsula and northern Lower Michigan – Late September to mid-October
-Most of Mid-to Southern Lower Peninsula - Early to mid-October
-Lower Peninsula's West Coast and parts of the East Coast – Mid to late October

As fall is upon us, get planning, you have September or October to get up north! With our Fab Fall Package, your stay includes the as always sumptuous full breakfast every morning as well as a wide assortment of discount coupons on everything from dining, movies and spa services, wine purchases and entertainment.

Ad to your plan some winery fun at the many local Michigan Wineries.
Hunts for the reds of October occurs through the month of October, it's a fun event to explore and discover great red wines of Leelanau Peninsula.

Mamma Mia will be performed through the rest of September and most of October. Call to purchase tickets and take a colorful fall stroll to the performance at Old Town Playhouse right from your room at the inn.

October 5-7th The M22 Art2Art Tour will feature award-winning work from nearly forty Michigan artists. With stops along M22 including the Suttons Bay Friendship Center, Northport Arts Center, the Old Art Building in Leland, and the Township Hall in Glen Arbor, this will also be a magnificent color tour!

We hope to see you soon in Traverse City!

Call 231.922.9900 for reservations


---
September 2018


September in Traverse City! Its Harvest time and time to explore the many waterless wonders the Traverse City area has to offer! Garden tours, historical tours, farmers markets, area art, races, dining, wine tasting and more. If you haven't had your fill of Lake Michigan yet you can still get away with dipping yourself in a few times, but get to it. For now, we've mapped out a few September highlights to get you started on an eventful northern Michigan adventure.

Saturdays through October 27
Sara Hardy Farmers Market
Find local vegetables and fruits, fresh baked goodies, herbs, cut flowers, perennials, etc. From spring through late fall harvest, fill your senses with the sights, aromas, and tastes of all things northern Michigan! For more information Click Here!

Through September 2
Botanic Garden Tours
Harvest season is the perfect time for a guided tour of the beautiful Botanic Gardens at Historic Barns Park. Tours are free and include exploration of the visitor center, pavilion, walled garden, historic barns and additional garden areas. See the ever-changing beauty of this rapidly-developing gem! A Golf cart is available for anyone needing extra support, otherwise please be prepared for a walk. For more information Click Here!

Friday, September 7
The Downtown Art Walk
A local favorite that will showcase art exhibits throughout Downtown Traverse City, enjoy an evening of art, refreshments, food, and music on a self-guided tour throughout Downtown Traverse City. Walking maps are available at each participating location and the Downtown Traverse City office. For more information Click Here!

Friday, September 14
Dining in the Vines
Bowers Harbor Vineyards and Fustini's guide you through a five-course meal with a complimentary wine (or 3!) that accompanies each fresh and flavorful dish. This event will take place at Bowers Harbor Vineyards right in the middle of their gorgeous vineyards. For more information Click Here!

Thursday, September 30
Colantha's Garden Celebration
Ride a bike or take a walk through the city streets to this free festival! Featuring an arts and crafts market, educational exhibitors, Botanic Garden tours, food trucks, live music and much more, this celebration honors Traverse Colantha Walker, the most famous cow in town! A 1957 restored Ford tractor named "Ginny" and a tour wagon named "Rosie" will be on site offering Botanic Garden wagon rides. For more information Click Here!

We hope to see you soon in Traverse City!

Call 231.922.9900 for reservations


---
August 2018


Stay with us at our small elegant hotel in Traverse City for 5 nights during the Film Festival July 31st-August 5th! A couple chambers with varying nights are still available. No need for a car, we are walking distance to all the movies and shuttles. Reserve your stay online now! Or, call 231 922 9900 to make a reservation.

The only film festival in northern Michigan, Traverse City Film Festival is located amongst the beautiful surroundings of East and West Grand Traverse Bays. With many venues around the bay, downtown and some that are free, there is something for every interest and budget.

Don't leave without tasting and going home with some Michigan wines! Take a tour with one of the many tour companies or drive to some of your own choices. Leelanau Wine Trail and Wineries of Old MIssion will keep you busy. Michigan has over 100 wineries. With most in northern Michigan, take your time and pick some favorites to bring home and enjoy remembering your getaway to Michigan wine country.

We hope to see you soon in Traverse City!


---
July 2018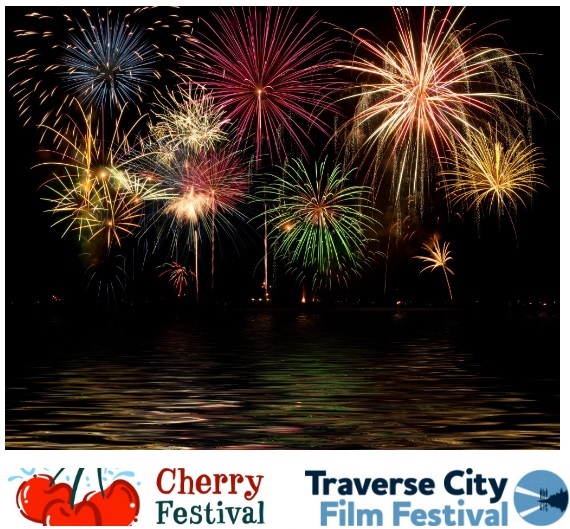 Get ready for July in Traverse City! Relax in the beauty of northern Michigan or make a plan from our list of Traverse City area events from concerts to festivals to bike rides most within a short walk from your room at our small elegant hotel.

Sunday, July 1st
Traverse City Arts and Crafts Fair
A juried Arts and Crafts Fair held downtown Traverse City. With over 100 artists from across the Midwest, don't miss a taste of northern Michigan's culture and purchase unique hand-crafted items from the area."Click here" for more information.

Wednesday, July 4th
Fourth of July Fireworks
Celebrate the 4th along the south end of West Grand Traverse Bay at the Open Space Park, Clinch Park Marina, Bryant Park or West End Beach watching a spectacular fireworks display. Sponsored by the TC Boom Boom Club, you will not be disappointed by this fabulous display. "Click here" for more information.

Thursday, July 5th
Cheryl Crow in concert Presented by the National Cherry Festival
Help welcome Nine-Time Grammy Award recipient, Sheryl Crow, to Traverse City. With nine studio albums have sold 35 million copies worldwide, she will take the stage during the National Cherry Festival. "Click here" for more information.

Thursday, July 12th
Go back in time with a visit to Kresge Auditorium at Interlochen Arts Academy for a night with Creedence Clearwater Revival in concert. "Click here" for more information.

Monday, July 16th
Monday Evening Old Mission Peninsula Bike Rides (each Monday)
Bring your bike and gather at the Central High School parking lot for an evening cycle along the beautiful Old Mission Peninsula! Enjoy spectacular views all the way. Choose from 15-, 20-, 35- or 40-mile rides. "Click here" for more information.

Friday, July 20th
Tour De Tart
TART Trails will host the 18th Annual Tour de TART bicycle tour. Over 600 people of all ages will hit the TART and Leelanau Trails for an evening ride. It begins in Traverse City and ends in the Village of Suttons Bay. "Click here" for more information.

Saturday, July 24th
Reba McEntire
With more than 56 million albums sold worldwide, Reba is a superstar. superstar. Singing all the hits you know and love on the Kresge stage, Reba will provide you with an amazing evening. "Click here" for more information.

Tuesday, July 31st to Sunday, August 5th
Traverse City Film Festival 2018
During this time, movie buffs will be lured away from the beaches and golf courses with an outstanding selection of independent, foreign, and documentary films. There will be panel discussions, lectures about the world of film, parties and more. Most events will be held near downtown -- at the State Theatre, Bijou by the Bay, the City Opera House, and the Old Town Playhouse. "Click here" for more information.

We hope to see you soon in Traverse City!


---
June 2018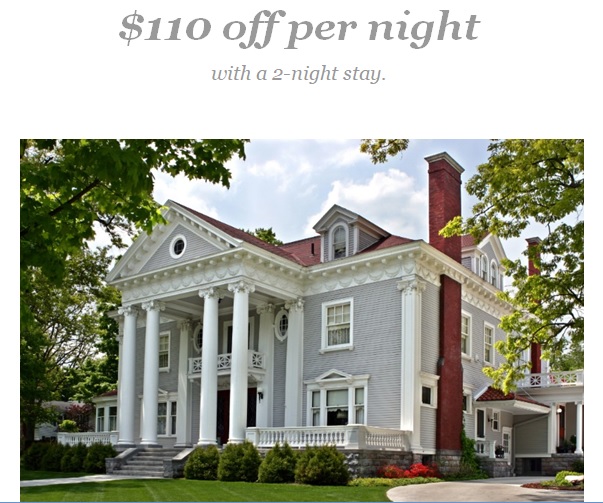 June Special
This is your chance to stay at the Wellington Inn at a discounted rate! We never discount rooms but are offering this JUNE SPECIAL through June 14th while supplies last!
Take $110 off per night on your stay of at least 2 nights when you stay
Sunday - Thursday (June 3rd-7th and June 10th-14th). This special is based on availability and for new reservations only. To make a reservation for our June Special please
call 231-922-9900 between 9 am and 7 pm to book.

We hope to see you and happy spring!


---
May 2018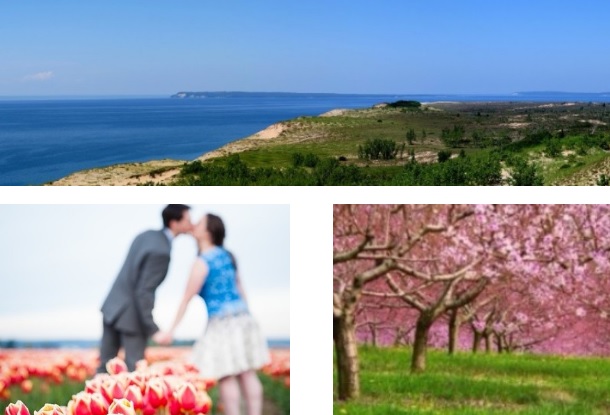 You'll easily walk to any downtown Traverse City restaurant straight from your quarters at our small elegant hotel. Or, maybe take a drive to Sleeping Bear Dunes where you can discover endless amounts of nature minus the bugs or need for hot weather gear. Either way, think about treating mom to the gift of a getaway this mother's day. She'll enjoy strolls through the city streets and the smell of spring in the air. Ideas for an eventful May below:

May 4, 2018
5:00 PM to 9:00 PM
For those who love art; The Downtown Art Walk highlights art exhibits throughout Downtown Traverse City. This is an evening of art, refreshments, food, and music as you stroll all along the city streets.

May 5, 2018
9:00 AM
For the more athletic; Mud Sweat and Beers Fat Tire Fest at Mt. Holiday! It's spring bike racing at its best! With the Stout or Pale Ale courses for adults and Ginger Ale or Root beer for youth, there is something for everyone at this event!

May 5, 2018 - May 6, 2018
11:00 AM to 6:00 PM
Do you like wine? If so, Spring Sip & Savor might be just what you're looking for. You'll enjoy Leelanau Wines with scrumptious pairings! This is a self-guided tour of 24 participating wineries!

May 7, 2018 - May 12, 2018
5:00 PM to 10:00 PM
Who doesn't like Mexican food? Authentic as it can get, during the Cookbook Dinner Series at Amical this month, you'll experience traditional recipes from Guzman and his restaurant in San Francisco. He brings us a collection of dishes which reflect the true spirit, freshness, and variety of regional Mexican food.

May 11, 2018
6:00 PM to 9:00 PM
A local favorite, Levi Britton! Help Rove Estate celebrate two years since they opened their doors! Indulge in music, wine, and flights all with 20% off happy hour all day!

May 13, 2018
9:00am to 2:00pm
Treat mom to a delicious Mother's Day Brunch all while taking in the beauty of Grand Traverse Bay! Where every table has a view of the water, Apache Trout Grill offers their decadent Sunday Brunch every Sunday.

May 19, 2018
10:00 AM to 5:00 PM
Wineries of Old Mission Peninsula Blossom Day celebrates the blossoms, beauty, and bounty of Old Mission Peninsula! Old Mission winemakers invite you to their tasting rooms to give you a sample of unreleased wines!

May 26, 2018
7:00 AM
Celebrating its 36th Anniversary, the Bayshore Marathon has become a "must run" for runners throughout the Midwest and beyond. This annual spring run along the old Mission peninsula is one of the worlds most beautiful.

May 31, 2018
6:00 PM to 9:00 PM
An upscale, gourmet dining experience, Small Plates is an intimate progressive dinner with Leelanau Winemakers. Local chefs have partnered with the winemakers to prepare delicious pairings.


---
April 2018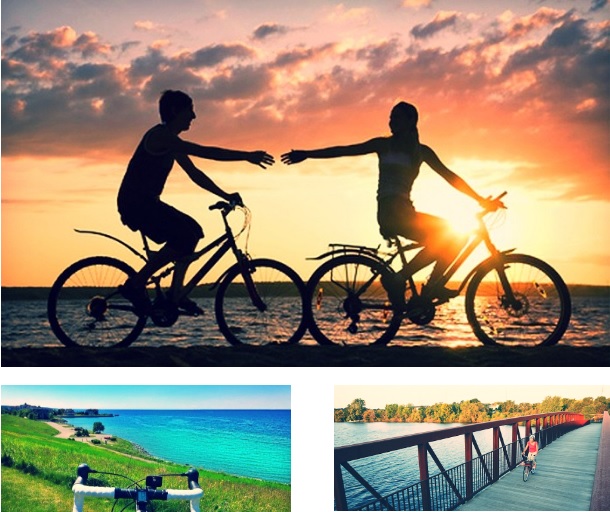 Spring is full of things to do in Traverse City. In April you won't fight the crowds or the heat. It's a perfect time to breathe in the fresh air as you discover the wonders of northern Michigan. Search no more; we have an easy access guide to what to do in Traverse City this April 2018!

Jump on the TART (Traverse Area Recreational Trail) trail only a few blocks from Wellington Inn. Followed to the west bikers will head toward the village of Suttons Bay in beautiful Leelanau County along 16 miles of beautiful countryside. Followed to the east you'll find easy riding and access to local establishments all along Traverse City's "Miracle Mile".
Either way you peddle it, you're in for a beautiful adventure.
Want a quick but still scenic trail? Wellington inn is a walk or short bike ride away from the Boardman Trail which is a scenic bike ride around Boardman lake right in Traverse City. Grab a picnic lunch and your afternoon is complete!
Saturday mornings, from 10am-2pm.
There is much to explore at The Village at Grand Traverse Commons. Grab a bike for perfect springtime transportation and fill all of your senses. Take a pit stop at the Traverse City's indoor farmers market located inside and indulge in local farm fresh food.
Sunday, April 15
9th annual Chocolate Festival
It's the biggest Chocolate Festival in Michigan and will not disappoint at the historic City Opera House. With a variety of exhibitors, there will be door prizes and even live music by Traverse City's own Jim Hawley. This is a great festival supporting the Northwest Food Coalition.

Saturday, April 21
MyNorth Wine & Weddings
Brides their friends and families get ready for a springtime tour of various participating wineries on both the old mission and Leelanau peninsulas. Wine & Weddings is a progressive event that includes eight wineries along the entire Traverse Wine Coast. Get a wine taste at each winery and meet vendors including photographers, bridal gown shops, wedding cake bakers, and florists to help plan your fairytale wedding.

Friday and Saturday, April 27th & 28th
Trail Running Festival
With a two-person adult 10k relay kickoff, the Traverse City Trail Running Festival is northern Michigan's biggest off-road running race. The individual 10K, 25K and 50K runs get underway Saturday morning and the post-racing celebration is not to be missed!


---
March 2018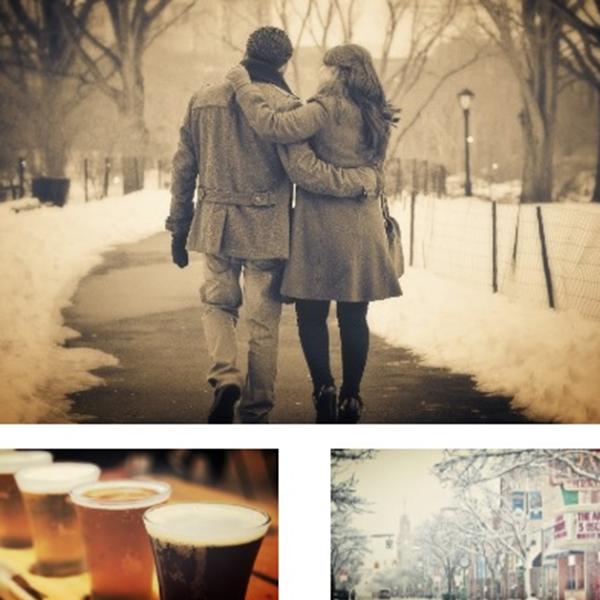 Chosen by "iLoveInns.com", Wellington Inn has been named one of America's Top 10 Most Romantic Inns for 2018!

March is full of things to do in Traverse City; we have done the legwork for you! Below you will find an array of activities from dining to live performances or parties in the woods most within a short walk from your room in our small elegant hotel.

Sunday, February 25th through Saturday, March 3rd get familiar with Traverse City Restaurant Week. (TCRW) offers culinary delights of Traverse City at a really affordable price!
With prices from $25 - $35 per person, you can enjoy multiple nights out discovering your new favorite spots! Reservations are strongly encouraged. "Click here" to see participating establishments and menus.

The 12th Annual Suds & Snow is back again this year on Saturday, March 3rd from 1-6pm!
Michigan's ultimate "Party in the Woods will take you on a 1/2 mile hike through the backwoods of Timber Ridge Resort where two live-music stages will feature local musicians, 20 + craft breweries serving beer, wine, & cider, and local food vendors. "Click here" for more details.

Monday, March 5th through Sunday the 11th Amical will feature its CookBook Series in which this month's week-long feature will be by Marcus Samuelsson. Born in Ethiopia and raised in Sweden, some of his recipes of American cuisine inspired by the South will come to life in Traverse City. "Click here" for reservations and more.

On Friday, March 16th The City Opera house will be featuring one of the world's greatest and most innovative vocal groups, The Manhattan Transfer! Winners of 10 Grammy Awards, this quartet has sold millions of records worldwide and has been together for over 45 years! "Click here" for more details and to purchase tickets.

Friday, March 16th through Saturday the 31st, The Old Town Playhouse will put on William Shakespeare's most popular comedy "A Midsummer Night's Dream". With various performance times Thursdays through Sundays, "Click here"for tickets and more information.

We hope to see you soon in Traverse City!


---
February 2018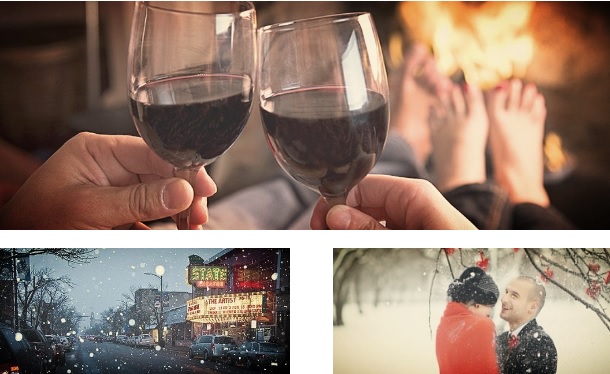 It's no problem that Valentine's Day doesn't fall on a weekend this year, with some romantic events happening right in the Traverse City area, you have your choice of two weekends to celebrate!

On Friday, February 9th or 16th, you could get settled in at Wellington Inn. Stay warm and recharge in the comforts of your chambers private fireplace or, take a short walk to just about anywhere downtown Traverse City.

February 10th and 11th could be an adventure of snow-covered vineyards with sweet & savory bites paired with amazing wine. Should you choose to "Taste the passion" along the Leelanau Peninsula wine trail, it will be taking place Saturday from 11 - 5 and Sunday from 12 - 5.
Taste the passion tickets include a souvenir wine glass, Leelanau wine and food pairings at each participating winery which include the Sleeping Beer loop (Rove Estate, Bel Lago Vineyards & Winery, Good Harbor Vineyards, Laurentide Winery, Cherry Republic, Chateau Fontaine) See wineries on the Grand Traverse Bay and Northern loops by clicking the link below.
Click here for more info and Tickets

If local breweries and music would be more your style, the Microbrew & Music festival has you covered on February 9th and 10th! The festival will be held at the newly opened Mt. Mancelona. With transportation options still TBD, the music lineup will not disappoint with Delilah DeWylde, Mustard Plug, and The Ragbirds. For more information and tickets click the link above.

The weekend of February 17th will be a very romantic one with the annual WOMP Romancing the Riesling.
The Saturday event runs from 10am - 5pm and tickets include wine and food pairings at each participating winery. Hence the name, this festival is in honor of the famed Riesling grape and features Wineries along the Old Mission Peninsula. For more information and ticket sales click here.


---
Gift Certificates

Ask us about our Gift Certificates, an ideal gift for the Holidays, Mother's Day, Birthdays, Anniversaries, Graduation, Weddings, and a memorable way to thank outstanding employees or valued clients.

Stay at the Wellington Inn and walk to one of these fine restaurants:

Amical
Firefly
Red Ginger