History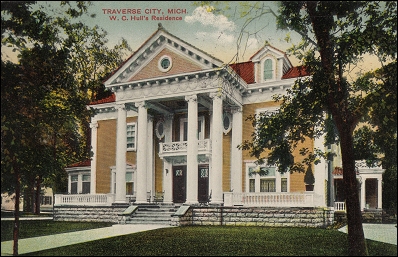 In 1892, William Cary Hull came to Traverse City to join his father in business. The senior Hull (Henry) was founder of the Oval Wood Dish Company in Mancelona. The company produced small, paper-thin, wood, basket-like containers used as disposable meat trays.

With 325 people on the payroll, the company was the largest employer in northern Michigan. Once settled into the family business, the younger Hull had blueprints drawn to construct their lavish home. Three years later, Hull moved his wife, Lola, and their five children into the mansion. Hull's father built the mansion directly across the street, and another family member owned a similar residence at the corner of Wellington and State.

Not only was the Oval Wood Dish Company a major employer, it was also a significant lumber consumer. To keep the factory humming required 15 million board feet of timber annually. During the late 1800's, Michigan was the largest producer of timber in the United States. By 1915, over-harvesting led to the serious decline of the state's lumber industry. Lack of wood forced the company in 1916 to relocate to Tupper Lake, N.Y., where lumber supplies continued to be plentiful. When the company moved, it took 50 Traverse City families with them, nearly 250 people, devastating the local economy.

Through the years, the home fell on hard times. The house stood vacant for 10 years. In the late 1920's the four Sly brothers purchased the home and divided it into a four-family unit, with four separate deeds. The home was eventually returned to a single family, but remained as 4 apartments until 1999 when Barb and Hank Rishel purchased the historic home. Following an extensive restoration, they opened it in 2003 as Antiquities Wellington Inn, a landmark Bed & Breakfast and downtown jewel.