Meetings & Events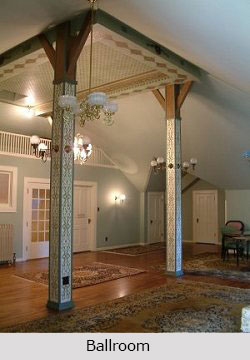 Book your next Business Retreat at Wellington Inn.
A historic Traverse City landmark where gracious turn-of-the-century traditions are complemented by modern conveniences.

With high-speed cable internet connections in each of the guest rooms and wireless internet throughout the home, The Wellington Inn is ideally suited for your next business retreat.

You'll have access to the spacious 3rd-floor ballroom for meetings fully equipped with an adjoining full kitchen for your refreshments. Our eight rooms in the Inn and two Carriage apartments can sleep from 12-24 people. Boxed lunches can be ordered locally. Main floor rooms combined with smaller sitting areas in the lower and upper levels, provide ample space for guests to mingle or escape.

Various Wine or beer tours and golf outings can be scheduled to provide your participants with a fun experience throughout their stay. And, Wellington Inn is just a quick walk to a plethora of fine dining and shopping in beautiful downtown Traverse City.


Contact us using our online form to schedule your next business retreat.